Installation and Activation of Loco Translate
To install the Loco Translate plugin, simply navigate to Plugins > Add New and search for the plugin Loco Translate.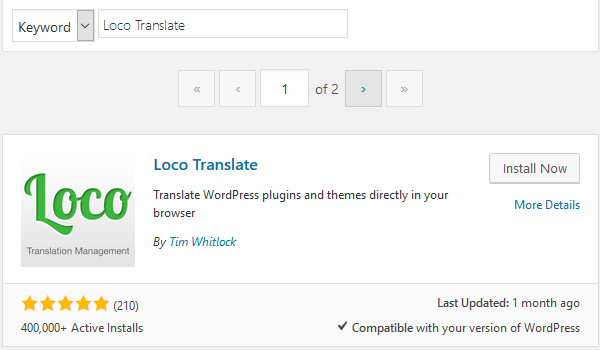 From there, select Install Now, and then click on Activate to get the plugin ready for use on your website. When this is complete, you will see a new WordPress dashboard menu item labeled Loco Translate.
Set Your Default Language
Although this has very little to do with actually using Loco Translate, it is important to understand. Each WordPress theme you install on your website will have certain languages built in. Some themes boast having tons of available languages, while others only have a handful. In order to successfully translate your theme into the language you want using Loco Translate, you must make sure your theme will accommodate it.
Start by navigating to Settings >General in your WordPress dashboard. Then, scroll down to the bottom where the Site Language dropdown menu is.  The language you see at the top of the dropdown menu is the language your site is currently set at.
Once you click on the dropdown menu, you will see the languages that are already installed on your website. In addition, you will see which ones are available for installation according to your WordPress theme.
If the language you wish to translate your theme into is not in the Installed section, select your preferred language from the dropdown menu and click on Save Changes.  This will install your language and set it as your site's default.
Translate Theme Strings
Once you are ready, navigate to Loco Translate > Themes to see all of the themes you have currently installed on your website. To start the translation of your theme, click on your active theme and it should open the options for it.
This Editor section of Loco Translate gives you a whole host of information:
The language you are translating into
How many strings are available for translation
The percentage of translated strings
A list of strings to choose from for translating
The sections for actually translating strings
A comment section
To start translating, click on the word or phrase you would like to translate. The word or phrase you choose will then be entered in English into the section labeled EN Source text.
After entering the translated word or phrase in the appropriate section, you will notice in the section labeled Source text that the word or phrase has been highlighted blue with the translation appearing next to the original word or phrase.
You can find all words/strings used within the theme and change them to whatever you want/need. After you change things around – don't forget to save your new settings.